TJ Class of 1965
- Richmond, Virginia -

Visit "Thomas Jefferson High School Richmond Va Class of 1965" on Facebook and LIKE us!

Thomas Jefferson High School webpage - click here
Other TJ classes' webpages - click here
Baseball Scoreboard Dedication 4/3/2017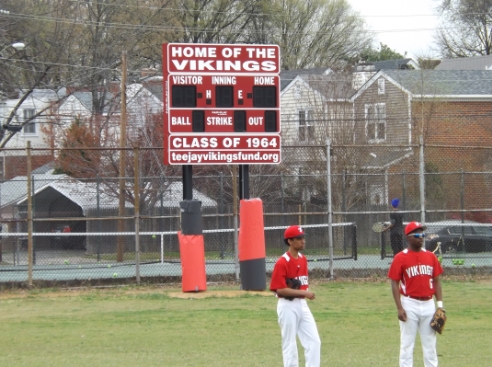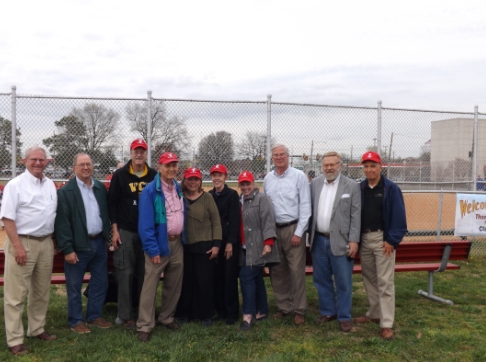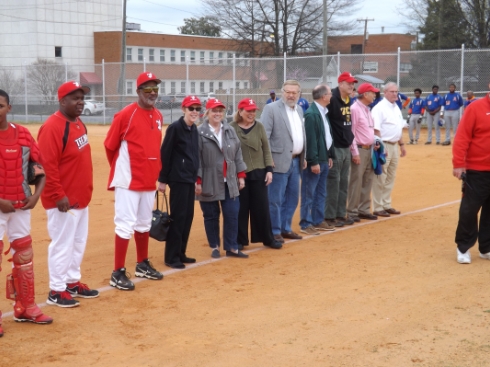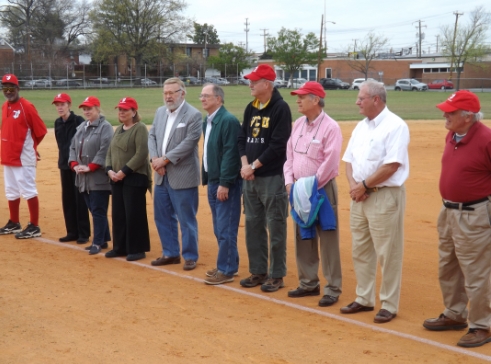 Click here for the Tee Jay Vikings Fund website
The Tee Jay Vikings Fund is a charitable, non-profit 501(c)(3) organization EIN#(45-5164961) that focuses on philanthropic/financial support and interest in Thomas Jefferson High School scholastics, athletics, music, arts and science.
Click here for the TJ Cadet Corps Alumni Association website
Updated 04/04/2017 by Russell Flammia:
"They practice every Tuesday night and are quite entertaining. This will be their 4th consecutive Memorial Day concert at the Virginia War Memorial. Come early!" [Note - NO PRACTICE ON TUESDAY SEPTEMBER 12]

Concert Schedule Update- CORRECTION 03/27/2017:

1. Memorial Day at the VA War Memorial, 2:00 PM, Monday May 29.

2. Hermitage High School, 6:30 PM, Tuesday May 30 ("finger food" will be served prior to the concert).

3. Class of 1962 Reunion at TJ, Saturday September 16, time TBA.

4. 75th Corps Anniversary at TJ, tentative date of Saturday, September 23, 2017, time TBA.

5. Westminster Canterbury, Thursday September 28, 7:30 PM.
---
Read the full article on Russell - click on News link above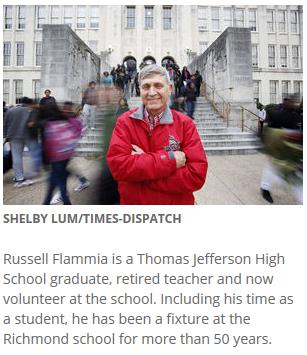 Classmates George Mende and Nancy Poegl Mende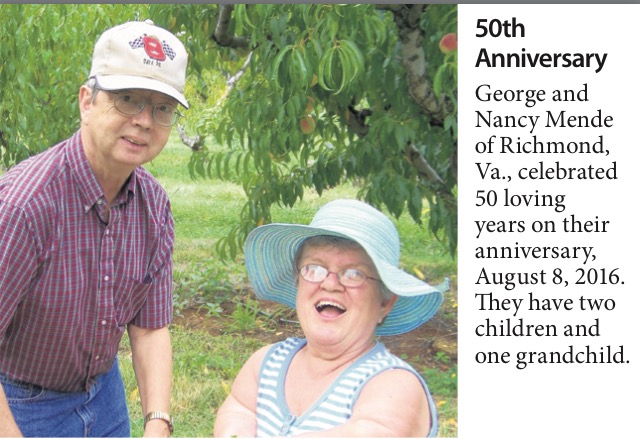 Click here to see some recent pictures of "spruce-ups" at TJ
---
Classmates, Lost but not forgotten - click here
---
Posted since our 40th reunion - click here
If provided, obituaries may be viewed by clicking on the above link.
Margie Romm Cohen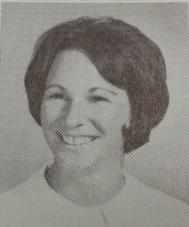 COHEN, Margie R., 69, of Richmond, passed away Friday, June 2, 2017. She is survived by her husband, Jim Cohen; son, Michael H. Cohen and his wife, Jane; two grandchildren, Ellie and Josie Cohen; sister, Elizabeth Kimmel and her husband, Ronald; brother, Alan Romm; and two nieces, Ann Kimmel and Deb Hooker and her husband, Mathew and their son, Henry; also Gavin Rogers, Michael's closest friend, who Margie loved as a son. A graduate of Thomas Jefferson High School and the University of Richmond, Margie taught in the Hampton, Va. and Henrico County School Systems. She was a lifetime member of Hadassah and had been an active member of the Sisterhood at B'nai Shalom. A graveside service will be held 11 a.m. Monday, June 5, 2017, in B'nai Shalom Cemetery at Greenwood Memorial Gardens. In lieu of flowers, contributions may be made to the Cullather Brain Tumor Quality of Life Center, 5875 Bremo Rd., MOB South, Suite 108, Richmond, Va. 23226.

Published in Richmond Times-Dispatch

June 4, 2017
---
Freida Phillips Woodson's Husband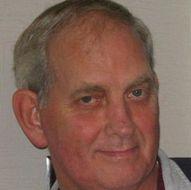 WOODSON, Linwood "Sonny," 69, passed away Sunday, May 28, 2017, in Richmond, Va. Sonny was born in Amelia, Va. to parents, Lloyd and Handy Woodson, who predeceased him. He is survived by his loving wife of 50 years, Freida; one daughter, Kris (Willy) Glidden; and three granddaughters, Katelynn Rogers, Victoria Rogers and Grace Glidden. Sonny served in the U.S. Navy during the Vietnam War and retired from Wyeth Pharmaceutical Co. Visitation for family and friends will be 2 to 4 and 6 to 8 p.m. Thursday, June 1, at Woody Funeral Home-Parham Chapel, 1771 N. Parham Road, Richmond, Va. 23229. His funeral service will be at 12 noon at the funeral home, followed by interment in Greenwood Memorial Gardens, Richmond. Online condolences received at woodyfuneralhomeparham.com.

Published in Richmond Times-Dispatch

May 31, 2017
---
Paul and Betty Timberlake Mennetti's Daughter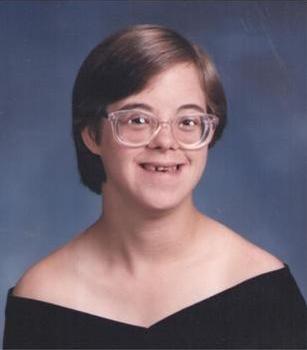 MENNETTI, Elizabeth A., 45, of Richmond, Va., went to be with the Lord on February 16, 2017. She was a 1992 graduate of J.R. Tucker High School, where she participated on the JV basketball team. Elizabeth was an active participant in Special Olympics and a member of the Henrico Tornados softball team. Her passion for sports could be seen at VCU basketball games, Virginia Tech football and the Freeman Rebels sidelines. Everyone who knew Elizabeth saw her smile, heard her laughter and received a giant hug. She was a blessing to her family and friends. She was preceded in death by her grandparents, Ben and Martha Timberlake and John and Aline Mennetti. She is survived by her parents, Paul and Betty Mennetti; her siblings, Grayson Mennetti (Kirsten) and Farley Allen (Jeff); her nephew and niece, Reed and Campbell Allen; her close great-aunt, Rebecca "Bee" and cousin, Carol Edwards; and numerous aunts, uncles and cousins. The family will receive friends from 2 to 4 and 6 to 8 p.m. Sunday, February 19, at the Central Chapel of Bennett Funeral Home, 3215 Cutshaw Avenue. Funeral services will be held 1 p.m. Monday, February 20, at Seventh Street Christian Church, 4101 Grove Avenue, Richmond, Va. 23221. Burial will follow in Riverview Cemetery. In lieu of flowers, donations may be made to Special Olympics of Virginia, 3212 Skipwith Rd., Richmond, Va. 23294.

Published in Richmond Times-Dispatch February

18, 2017
---
Maurice Schwarz's Mother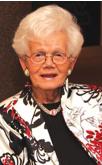 SCHWARZ, Sima Golub, 89, of Richmond, died February 2, 2017. She was a Holocaust survivor of Dachau, Kaufering, and Bergen Belson Concentration camps. Sima was born in Krewo, Poland on September 8, 1927 and immigrated to the United States in 1950 with husband Kalman and their two children, Maurice and Harry, who were three and one-and-a-half. Their daughter, Susie, was born in the United States. Sima was in the grocery business for 20 years with her husband and then worked at LaVogue for 10 years. She was on the Holocaust Board since inception and a frequent speaker to classroom audiences about her experiences. She was an active member of Temple Beth-El and the Jewish Women's Club. Sima was preceded in death by her husband, Kalman; sisters, Rivka Jacobson, Michla Zaretsky, Belka Golub (age 17) and Shimon Golub (age 6); and her parents, Sarah and Moshe Lazar Golub. She is survived by her children, Maurice and Janie Schwarz, Harry and Penny Schwarz, and David and Susie Schwarz Novick; grandchildren, Max and Karl (Kate) Novick, Jodie (Al) Goldberg, David (Elise)Schwarz, Lee and Adam Schwarz; and great-grandchildren, Aden and Isaac Goldberg, and Charlie and Elliott Schwarz. A funeral service will be held 1 p.m. Friday at Bliley's-Central, 3801 Augusta Ave., with interment to follow in Richmond Beth El Cemetery at Forest Lawn. In lieu of flowers, memorial donations may be made to the Sima and Kalman Schwarz VHM Fund of the Richmond Jewish Foundation, RJF, P.O. Box 17128, Richmond, Va. 23226 or Temple Beth-El.

Published in Richmond Times-Dispatch

February 3, 2017
---
Marcy Justa Cotton's Mother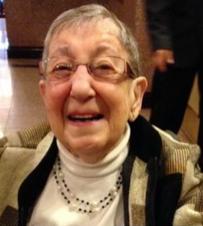 JUSTA, Mrs. Natalie Frances, left a legacy of love, resilience, and lifelong learning when she died peacefully in her sleep in Naples, Fla. on January 7, 2017. She was 92. Born to Pearl and Herman Jacobson in the Bronx, N.Y., she earned her B.A. in Education with a teaching certificate from Hunter College and her Master of Education from Virginia Commonwealth University. She married Jacob H. Justa on July 30, 1944 in New York City, N.Y.; they raised three children in Richmond, Va., where she resided until December, 2012. Natalie was a beloved elementary school teacher at Highland Springs Elementary and Maybeury Elementary in Henrico County. She later served as the librarian at Maybeury for the last 20 years of her career, where she enjoyed teaching literacy, instilling in students a love of learning, reading, and an appreciation for diversity. Deeply dedicated to Jewish life, community service, and advancing social justice, Natalie held volunteer leadership roles at Temple Beth-El and Keneseth Beth Israel Sisterhoods, Hadassah, the Beth Sholom Home of Virginia, and American Association of University Women, among others. She was also an avid supporter of the arts. In her later years, Natalie took extended trips to visit her children's families in Omaha, Neb. (daughter, Marcy and son-in-law, Ira Cotton) and Albany, N.Y. (son, Stephen Justa and daughter-in-law, Shelley). In each community, she developed deep roots and lasting friendships. Family and friends remember her as always having a kind word and infectious laugh, a good book or film recommendation, a welcoming heart and zest for life. She was preceded in death by daughter, Miriam (Norton Richman); and husband, Jacob. She is survived by brother, I.J. Jacobson (Beryl); daughter, Marcy (Ira Cotton); son, Stephen (Shelley); and grandchildren, Tav Richman, Anna and Amy Cotton,and Daniel and Michael Justa. Funeral services will be held at Bliley's - Central, 3801 Augusta Avenue on Sunday, January 15, at 12 noon. In lieu of flowers, please consider contributions in Natalie's memory to Planned Parenthood Federation of America, your local public library foundation or Keneseth Beth Israel.

Published in Richmond Times-Dispatch

January 14, 2017
---
Dave Crighton's Father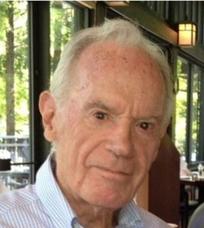 CRIGHTON, David H, 101, of Richmond, died peacefully on Thursday, January 5, 2017. He was preceded in death by his wife of 54 years, Helen Crighton and is survived by his children, Elizabeth Crighton and David Crighton. Funeral announcement will be made at a later date.

Published in Richmond Times-Dispatch

January 8, 2017
---
Trudy Reeson Martin's Mother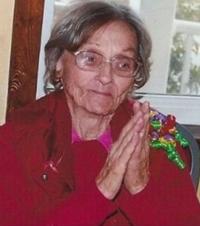 REESON, Laura Wrenn, a resident of Surry County, passed away peacefully surrounded by her family Sunday, November 27, 2016. The youngest of nine, she was the daughter of the late Lewellyn and Laura Wrenn; and the widow of Tim Reeson. Mrs. Reeson worked several jobs including being a "Rosie the Riveter" at the shipyard during World War II, a waitress at the Virginia Diner and a hostess at Brandon Plantation, but what brought her the greatest joy was her family and just being "mom", "gram" and "great-gram." She liked to play piano, which she did so by ear and watch the bluebirds that lived in the clothesline post in her back yard. Left to cherish her memory are her daughters, Trudy R. Martin and her husband, Allen of Powhatan and Deborah R. Milam and husband, Andrew of Avenue, Md.; grandchildren, Rebecca "Becky" Daniels, Carrie Gwaltney, Karen "K.P." Gobble and Eric E. Marr II; and great-grandchildren, Shannon Daniels, Fallon Daniels, Alayne Gwaltney, Megan Gobble and Brody Gobble. A funeral service will be held at 12 noon, Wednesday, November 30, 2016, at R.W. Baker & Co. Funeral Home and Crematory, Wakefield Chapel, with Mr. John Coker officiating. The family will receive friends from 11 a.m. to 12 noon, Wednesday, November 30, 2016, at the funeral home. Burial will follow at Union Christian Church Cemetery. The family would like to thank Donna and Jiggs Gordon and all the staff at "A Loving Heart" for all of the care and love they gave Mrs. Reeson while she was there. Memorial contributions may be made to the Claremont Volunteer Fire Department, P.O. Box 100, Claremont, Va. 23899, or to Surry Volunteer Rescue Squad, P.O. Box 188, Surry, Va. 23883. Condolences may be posted at rwbakerfh.com.

Published in Richmond Times-Dispatch

November 29, 2016
---
For Older Obituaries, Click Here
*******************************
TJ Class of 1965 only
If you are not receiving emails from us from time-to-time [last one sent June 12, 2017], we probably do not have a valid email address for you. Please send us your new email address.

...be sure to include your name in 1965!
or
Classmate Information Update Form - click here
List of Classmates We Need to Locate - click here
---
---
We did it!


Read and/or listen to Ned Hood's toast to the Class of 1965 - click here

***Class Photo by Classmate John Henley***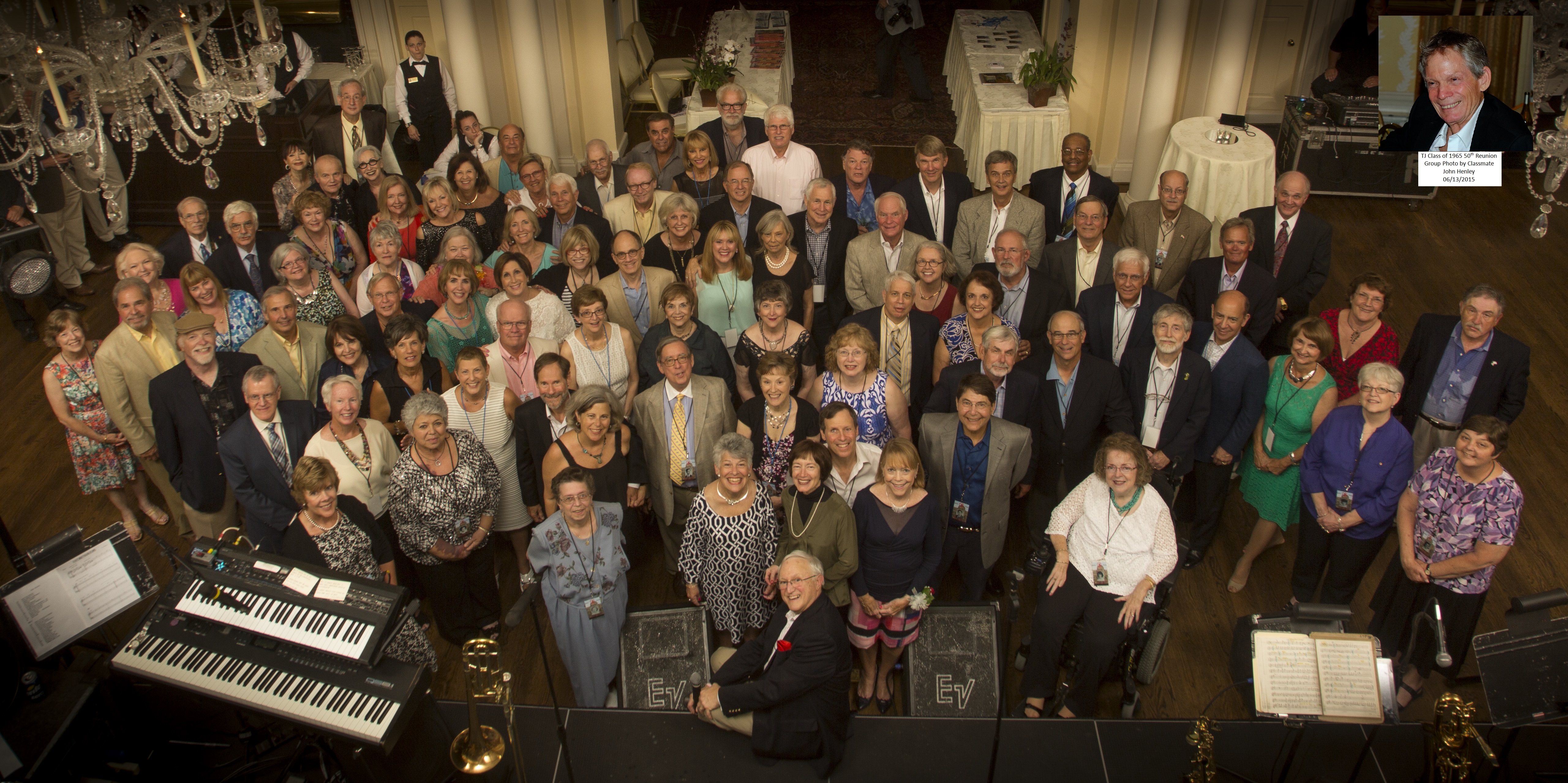 Click on picture "KEY" below to see names: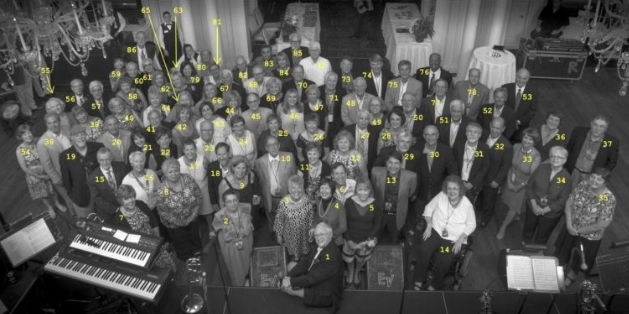 Click here for original reunion details
50th REUNION - JUNE 12 - 14, 2015
Original Invitation and RSVP - for PDF - Click here
---
Become a TJ Class of 1965 Benefactor - click here
View current list of Benefactors - click here
---
Upcoming Improvements in the works for TJ
More pictures of old marquee removal and installation of new marquee on August 5th - click here and go to bottom of page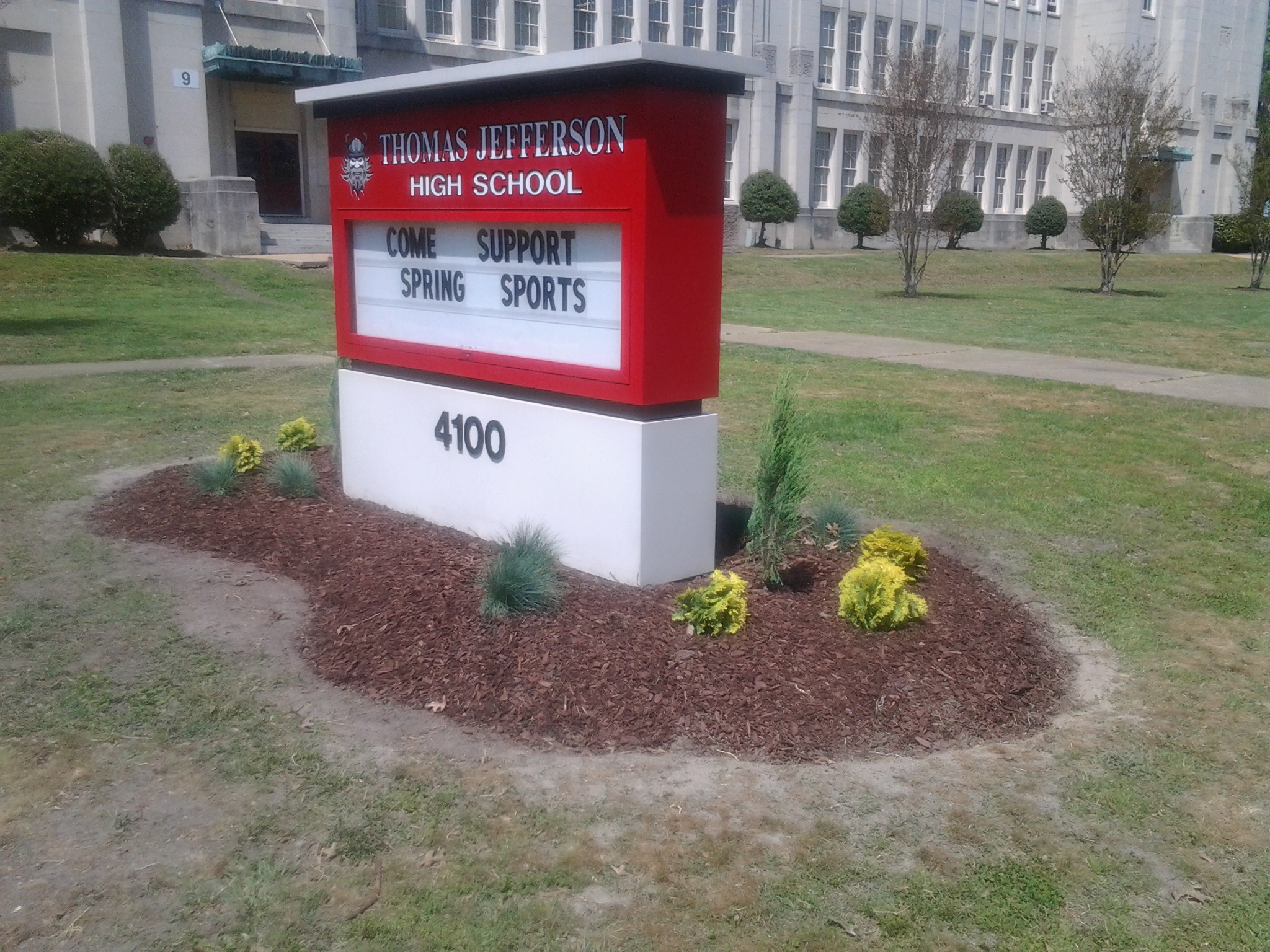 ...as a result of donations from the Classes of '58, '63, '71, and '72 through the Tee Jay Vikings Fund.
Click on the above links to learn more and view PDF versions of the proposals.
---
***Java may be needed to activate some of the buttons/bars***
You can download Java for free at http://www.java.com/en/download/
---
"65 turns 65" Party
(Held June 30 and July 1, 2012)
Original Invitation <-- click here
Pictures from the party <--click here
(If you have more - send them to us)
---
---
REUNIONS
Thanks to our "historian" [Ned Hood] we have added many pictures from our 20th reunion (1985) and our 40th reunion (2005).
Check them out here:
(click on selection below)
---
45th Reunion
(Held October 1st - 3rd, 2010)
Click here for Reunion details
Click here to see who attended
---
"65 does 60" Birthday Party
(Held April 28, 2007)
Original Invitation <-- click here
Pictures from the party <--click here
(If you have more - send them to us)
---
"SWEET MEMORIES" DISTRIBUTION PARTY- click here
(Held February 25, 2006)
---
( Held October 28th, 29th, and 30th, 2005)
---
---
---
ARCHIVES
---
(Click the above link to view older articles not on Homepage)
---
Photos and Comments from Classmates - click here
(Last updated 11/22/2010)
---
TJ - Then and Now - click here
---
Memory Lane - Selected 1965 yearbook pictures - click here
---
"forty65" Archives - click here
---
---
Memorabilia Store - click here
---