TJ Class of 1965
- Richmond, Virginia -

Visit "Thomas Jefferson High School Richmond Va Class of 1965" on Facebook and LIKE us!

Thomas Jefferson High School webpage - click here
Other TJ classes' webpages - click here
Click here for the Tee Jay Vikings Fund website
The Tee Jay Vikings Fund is a charitable, non-profit 501(c)(3) organization EIN#(45-5164961) that focuses on philanthropic/financial support and interest in Thomas Jefferson High School scholastics, athletics, music, arts and science.

Click here for the TJ Cadet Corps Alumni Association website
---
A rebuilt football program at Thomas Jefferson - High School
...In the spring of 2012, ...[coach] Hornik was hired. He won his first game of the season that September and took the Vikings to the playoffs in 2013...And in less than three years, he's helped raise $175,000 to give the football team a complete makeover and help out other areas of the school in need...
Read the whole the article-click here
---
Classmates, Lost but not forgotten - click here
---
Posted since our 40th reunion - click here
If provided, obituaries may be viewed by clicking on the above link.
Rita Waldman Bari Karp (posted here on 06-15-2015)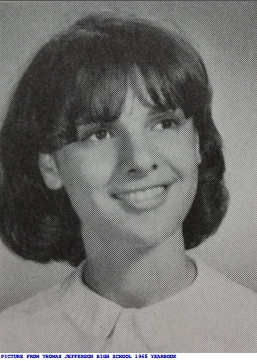 Rita [Waldman Bari Karp] of Boca Raton, FL, passed away on July 14, 2013. Survived by her devoted husband George, Ioving mother Blanche Waldman, sister to Edie Bergen, brother Bill Wolf, cherished son Adam(Deena)Bari daughters Tobi(Josh)Rifkin and Stephanie Bari adored grandchildren Gregory, Jonah, Elysa, Tamara, Andrew and Isaac caring stepdaughtersJennifer, Heather and Vanessa and step grandchildren Stella, Jeremy, Elizabeth, Conrad and Evan. Funeral service to be held today 12 noon LevittWeinstein Memorial Chapel 7500 N State Road 7 Coconut Creek, FL 954- 427-6500.
---
Richard "Dick" Landers (posted here on 03-22-2015)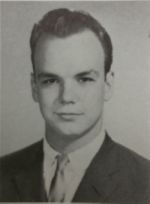 LANDERS, Richard "Dick," husband, lover, father, grandfather, and friend, returned to his God whom he loved so much and served so well, on October 1, 2011. All who met him found a truly loving, caring and generous man. Dick was a 3rd Degree Knight of Columbus, member of the Ancient Order of the Hibernians, a Policeman for Henrico County for 9 years, and later employed by J. M. Smith Corp. He was an active member of St. Benedict Catholic Church and had a deep devotion to Mary, the mother of Jesus, and made many Pilgrimages to Marian Shrines in the United States, Canada, Italy, Ireland, Portugal, Spain and Medjugorje, Yugoslavia. His smiles, jokes, and endearing personality will be greatly missed by all who knew him, especially his wife, Anne Marie; his daughters, Christine Kump and her husband, Kevin, and Elizabeth Landers; his grandchildren, Nicholas, Tanner, Savannah, and Reagan; and his sister Mary Taylor. He was preceded in death by his precious daughter, Darlene. Dick's family will receive friends from 6 to 8 p.m. Monday at Bliley's-Central Chapel, 3801 Augusta Ave., with the Rosary being prayed at 7 p.m. A Mass of Christian Burial will be celebrated 10 a.m. Tuesday at St. Benedict Catholic Church. Burial will follow in Mt. Calvary Cemetery. In lieu of flowers, memorial contributions may be made to Bon Secours' Richmond Healthcare Foundation (Hospice), 5875 Bremo Road, Suite 710, Richmond, Va. 23226 or to St. Benedict Church, 300 N. Sheppard St., Richmond, Va. 23221.
---
Mark Novick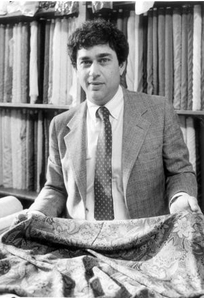 NOVICK, Mark Allen, of Richmond, passed away peacefully on Wednesday, November 5, 2014. He was preceded in death by his parents, Julius and Minnie Novick; brother, Dr. Maurice Novick; and an infant son. Mark was the owner of the Silk Trading Company in downtown Richmond since 1978, having taken over the business from his parents who opened the store in 1936. Known as the "Mayor of Grace Street," Mark was a member of Temple Beth-El and devoted his time and efforts for the betterment of both the Jewish community and downtown Richmond. He is survived by his wife, Karla; daughter, Amy; sister, Zelda Weiner (Gerald); nieces, nephews and cousins. A graveside ceremony will be held 11 a.m. Friday in Richmond Beth-El Cemetery at Forest Lawn on Alma Ave. Anyone wishing to process to the cemetery with the family, please meet at Bliley's-Central, 3801 Augusta Ave., 10 a.m. Friday. In lieu of flowers, donations may be made to the Diabetes Association, Temple Beth-El School or a charity of your choice.

Published in Richmond Times-Dispatch November 6, 2014
---
Dudley Staples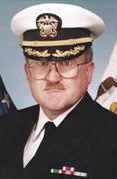 Fitzhugh Dudley Staples, Jr., 66, formerly of Richmond, Virginia, Baltimore, Maryland and Ijamsville, Maryland, died July 3 at his home. He is survived by his sister, Gray Staples Miller and her husband, John Cameron Miller, of Boyds, Md., their son, Marshall Gregory Miller and wife Stephanie Brandice Cunningham, and grand-children Liam and Adeline Cunningham-Miller. Mr. Staples graduated from Thomas Jefferson High School in Richmond, Virginia, and Williams College, and received a J. D. Degree from the University of Virginia Law School. Mr. Staples was honored to serve in the U.S Navy for almost 30 years, including tours as Supply Officer, USS Wood County and as commanding officer of 4 Naval Reserve units. He retired from the Navy with the rank of Captain and acknowledged that he could not have had the success he did in the Navy without the help and cooperation of the many people with whom he was fortunate to serve. Mr. Staples was employed by and became a partner in the law firm of Venable, Baetjer & Howard (now named Venable LLP). Later, he was employed as general counsel of three different companies, two of which were public companies. Mr. Staples was one of the original founders of Health Care for the Homeless, Inc., a Maryland-based non-profit organization headquartered in Baltimore, and served as its second president for 2 ˝ years, during which time the organization strengthened its community and government support, and acquired a new headquarters building. Mr. Staples was active in the alumni activities of Williams College and served for several years as head of the Maryland chapter of the alumni association. The family will receive friends at his home in Ijamsville from 1:00-4:00 pm on Sunday, July 20. In lieu of flowers, donations may be made in Mr. Staples' name to Williams College, Office of Annual Giving, 75 Park St., Williamstown, MA 01267 , the Navy-Marine Corps Relief Society 875 North Randolph Street, Suite 225, Arlington, VA 22203 or Health Care for the Homeless, Inc., Development Office, 421 The Fallsway, Baltimore, MD 21202. Letters to the family may be sent to Mr. Staples' home in Ijamsville.

Published in Baltimore Sun on July 9, 2014
---
Wally Lawrence
LAWRENCE, Wallace H. III "Sweet Tooth Wally," son of Wallace H. Lawrence Jr. and Becky Doniel, passed away May 3, 2014. He is survived by his sister, Mary Ellen Huffman of Goochland; niece, Kerry Allen (Chris) of Goochland; nephew, David Huffman (Ann) of Glen Allen; great-nephew, Jonathan Huffman; great-niece, Tori Allen; long time friend, companion and caregiver, Katherine Hall; and his devoted pet, "Little-Bit." Wally was a member of the NRA, the Black Creek Cowboy Shooters and an avid freshwater fisherman. A memorial service will be held 2 p.m. Saturday, May 10, 2014 at the Mechanicsville Chapel of the Bennett Funeral Home, 8014 Lee-Davis Rd., Mechanicsville, Va. 23111.

Published in Richmond Times-Dispatch on May 8, 2014
---
Wally Lawrence's Father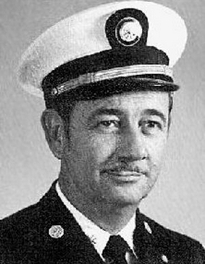 LAWRENCE, "Chief" Wallace H. Jr., 96, of Walkerton, Va., died April 21, 2014 from a stroke. Born in Henrico on June 6, 1917, he was a lifetime member of both the Tuckahoe Masonic Lodge #347, where he achieved 32 degree Mason, and RVA Retired Firefighters Association. He worked from 1945 to 1976 in the Richmond Fire Department. He was married to Rebecca Lawrence, who passed in 1999. He is survived by his devoted children, Wallace H. Lawrence III of Mechanicsville, Va. and Mary Ellen Huffman of Goochland, Va.; grandchildren, David Huffman (Ann) of Glen Allen, Va., Kerry Allen (Chris) of Goochland, Va.; great-grandchildren, Jonathan Huffman and Tori Allen; as well as two devoted pets, Casey and Barney. A graveside service will be held at 3 p.m. Thursday, April 24, 2014 in Riverview Cemetery, where friends may express condolences. Arrangements entrusted to the West Chapel of Bennett Funeral Home.

Published in Richmond Times-Dispatch on April 23, 2014
---
*******************************
TJ Class of 1965 only
If you are not receiving emails from us from time-to-time [last one sent July 24, 2015], we probably do not have a valid email address for you. Please send us your new email address.

...be sure to include your name in 1965!
or
Classmate Information Update Form - click here
List of Classmates We Need to Locate - click here
---
Did you know? - Thanks to '65 classmate Larry Creeger, the 50th Reunion classmate name badge you received during the reunion weekend is worth more than a memory. It may also be used at Innsbrook After Hours in 2015 for any one show for you and a guest.
Innsbrook After Hours Concert Schedule - click here
7/3/2015 UPDATE - Looks like we may have a Class of '65 gathering later this summer at Innsbrook After Hours where you will be able to use your 50th name badge as described above (if you haven't used it before then). Right now, we're looking at The Beach Boys concert on Wednesday, August 19th.
Larry Creeger is enhancing his offer for our special classmate and guest "gathering" with:
"...We will provide all with a wristband for the Sponsor Guest Tent where they can buy food and drinks in a private area. The area has umbrella table and bar top tables. Should work really well."
Be on the lookout for an email update from John Schwartz in the next week or two as we get closer to firming up the plans.
---
We did it!


Read and/or listen to Ned Hood's toast to the Class of 1965 - click here

***Class Photo by Classmate John Henley***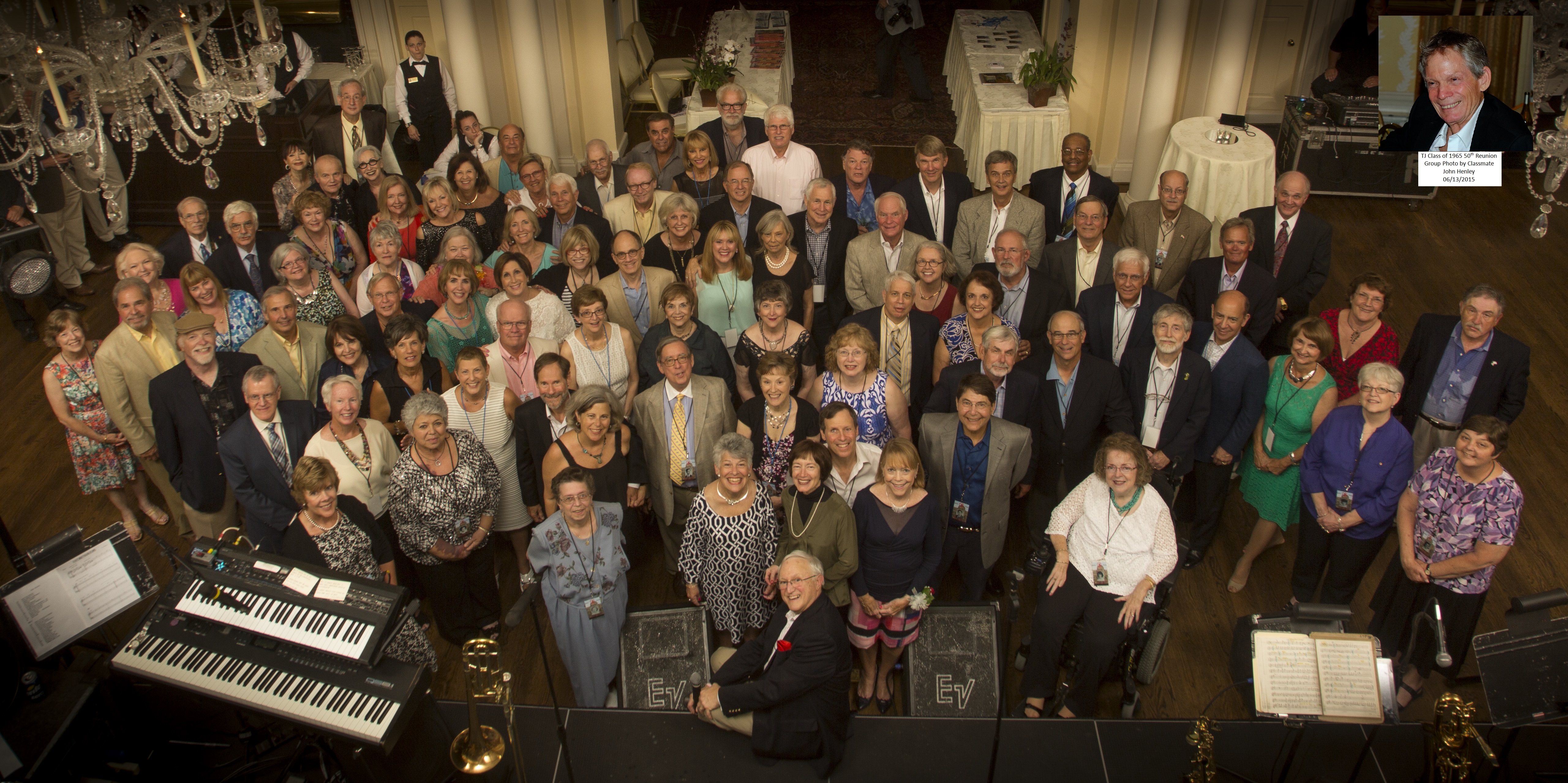 Click on picture "KEY" below to see names: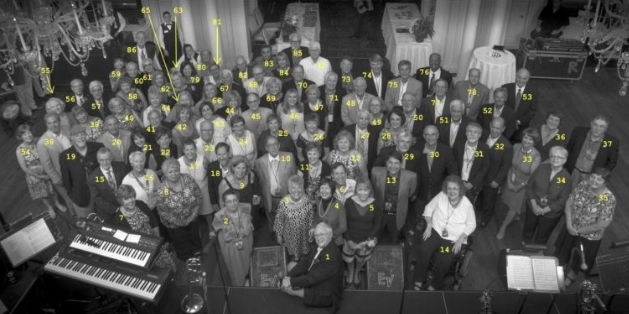 Click here for original reunion details
50th REUNION - JUNE 12 - 14, 2015
Original Invitation and RSVP - for PDF - Click here
---
Become a TJ Class of 1965 Benefactor - click here
View current list of Benefactors - click here
---
Upcoming Improvements in the works for TJ
More pictures of old marquee removal and installation of new marquee on August 5th - click here and go to bottom of page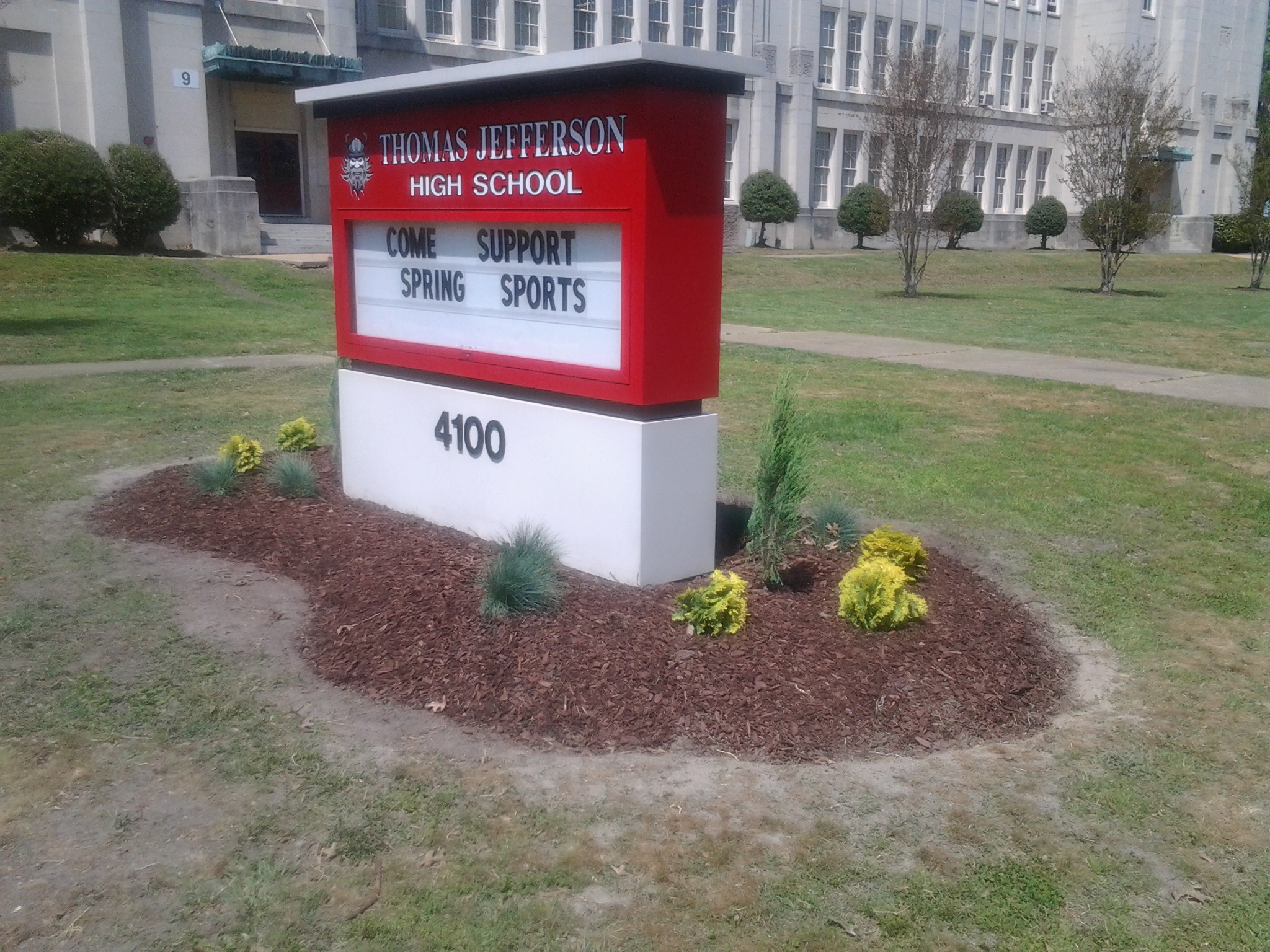 ...as a result of donations from the Classes of '58, '63, '71, and '72 through the Tee Jay Vikings Fund.
Click on the above links to learn more and view PDF versions of the proposals.
---
***Java may be needed to activate some of the buttons/bars***
You can download Java for free at http://www.java.com/en/download/
---
"65 turns 65" Party
(Held June 30 and July 1, 2012)
Original Invitation <-- click here
Pictures from the party <--click here
(If you have more - send them to us)
---
---
REUNIONS
Thanks to our "historian" [Ned Hood] we have added many pictures from our 20th reunion (1985) and our 40th reunion (2005).
Check them out here:
(click on selection below)
---
45th Reunion
(Held October 1st - 3rd, 2010)
Click here for Reunion details
Click here to see who attended
---
"65 does 60" Birthday Party
(Held April 28, 2007)
Original Invitation <-- click here
Pictures from the party <--click here
(If you have more - send them to us)
---
"SWEET MEMORIES" DISTRIBUTION PARTY- click here
(Held February 25, 2006)
---
( Held October 28th, 29th, and 30th, 2005)
---
---
---
ARCHIVES
---
(Click the above link to view older articles not on Homepage)
---
Photos and Comments from Classmates - click here
(Last updated 11/22/2010)
---
TJ - Then and Now - click here
---
Memory Lane - Selected 1965 yearbook pictures - click here
---
"forty65" Archives - click here
---
---
Memorabilia Store - click here
---